New start-up develops gene therapy for rare muscular disease
The diagnosis of congenital muscular dystrophy is like a death sentence. Affected children progressively lose their muscle strength until they can no longer walk or breathe. In recent years, Prof. Markus Rüegg and his team have been focused on developing their promising gene therapy. They now aim to bring this novel strategy to the clinic through their newly founded start-up "SEAL Therapeutics AG".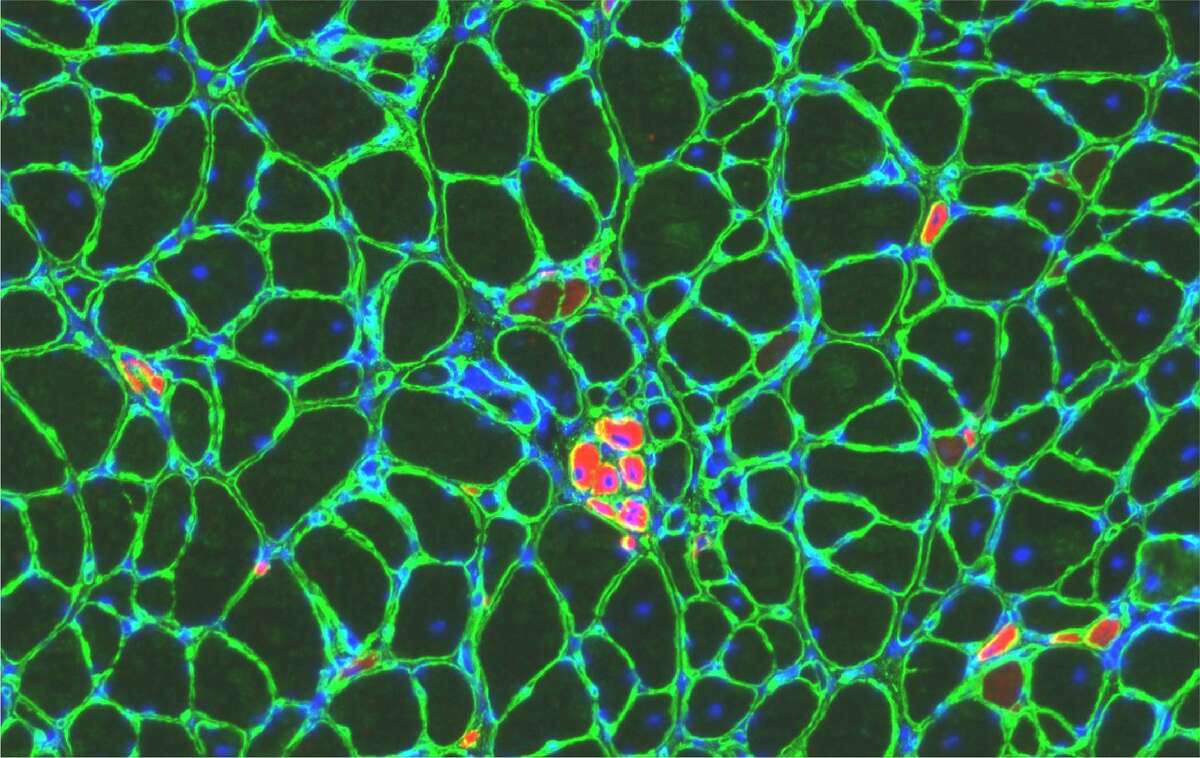 Cross-section through treated LAMA2 MD muscle with individual muscle fibers surrounded by laminin (green) and regenerated small muscle fibers (red).
Where did the idea of a start-up originate?
Our research on neuromuscular diseases was originally purely academic, but it became increasingly apparent that our results could potentially be used for a gene therapy-based treatment. We believe our research has reached a stage where clinical studies are possible in the near future. Our dream is that one day patients may benefit from our work.

What disease are you studying?
We investigate a neuromuscular disease called LAMA2-related congenital muscular dystrophy. This is an inherited disease that leads to structural defects in muscles, because one key component of the muscles supportive protein scaffold is missing. This makes the muscles extremely fragile. Affected children progressively lose muscle strength, including in their respiratory muscles, with most patients dying in adolescence.

How does your gene therapy approach work?
Our approach involves delivering specifically designed linker proteins that stabilize muscle fibers, thereby protecting them from the load of movement and relieving disease symptoms. We deliver the linker proteins using viral vectors that are already used to treat other neuromuscular diseases. In our laboratory, mice with the same genetic defect as these patients, show remarkable improvements by administering the linkers.

Why do you use mice as a model organism?
Mice with this gene mutation have the same underlying disease mechanism and develop the same symptoms as patients, making them the ideal model system. Importantly, our linker protein approach is also applicable in humans.
Is it possible to cure the disease with your approach?
No, our approach is not able to restore expression of the missing protein, but it is able to compensate its loss. While mice never reach control levels, we have seen remarkable improvements in functionality and lifespan with our linker protein gene therapy approach.
What would this treatment look like?
Using this therapy, patients would only require one dose. However, questions remain of how long the treatment will last. There are already promising gene therapies for other neuromuscular diseases where children were treated as babies and the effects are persisting as they reach preschool age.
What prompted you to turn your research into a start-up?
We have now developed our gene therapy to the point where it can be tested in patients. For this, we need partners in the pharmaceutical industry, who can contribute the essential technical know-how to further development our approach for the clinical setting. And so the idea of a start-up was born, and we are now seeking suitable pharmaceutical partners to bring our therapy to the clinic.
Which companies will you approach?
Several large pharma companies already have gene therapies in their portfolio. They are all potential partners because they know how to conduct clinical trials for gene therapies. In exchange, we bring a wealth of knowledge about the disease and with the network to identify participating clinics.
Are gene therapies superior to conventional treatments?
Gene therapies very likely represent the future for treating hereditary diseases. Unfortunately, the profound structural defects in muscle dystrophies make traditional remedies ineffective and leave gene therapies like ours often as the only viable treatment option.
What keeps you and your team going?
Our motivation is the patients, who we hope to be able to help. It touches me deeply when I see how much hope parents of affected children place in us. This is all the motivation we need, and believe our strategy represents a genuine treatment option. As does the University of Basel along with Unitectra and Alex Schier who all immediately supported our project.
And now the time has come…
We have been working in this field for over 15 years. I started attending conferences of clinical experts and of patient organization years ago. And I still remember vividly when the father of an affected child once said: "They (the scientists) are doing research and research, and our children are dying". You can always continue with research and find out new things but at some point you have to dare to try out whether a therapy can help patients. Now is the right moment for us to do this.