Preventing "drill & fill"
June 2019
He has been searching for years for the magic formula to spare us from having to visit the dentist. But André Brunella, Head of Product Development for the oral care brands elmex and meridol at Colgate-Palmolive, formerly GABA, does not only juggle with formulae for toothpastes, he also uses algorithms to create artwork in his free time.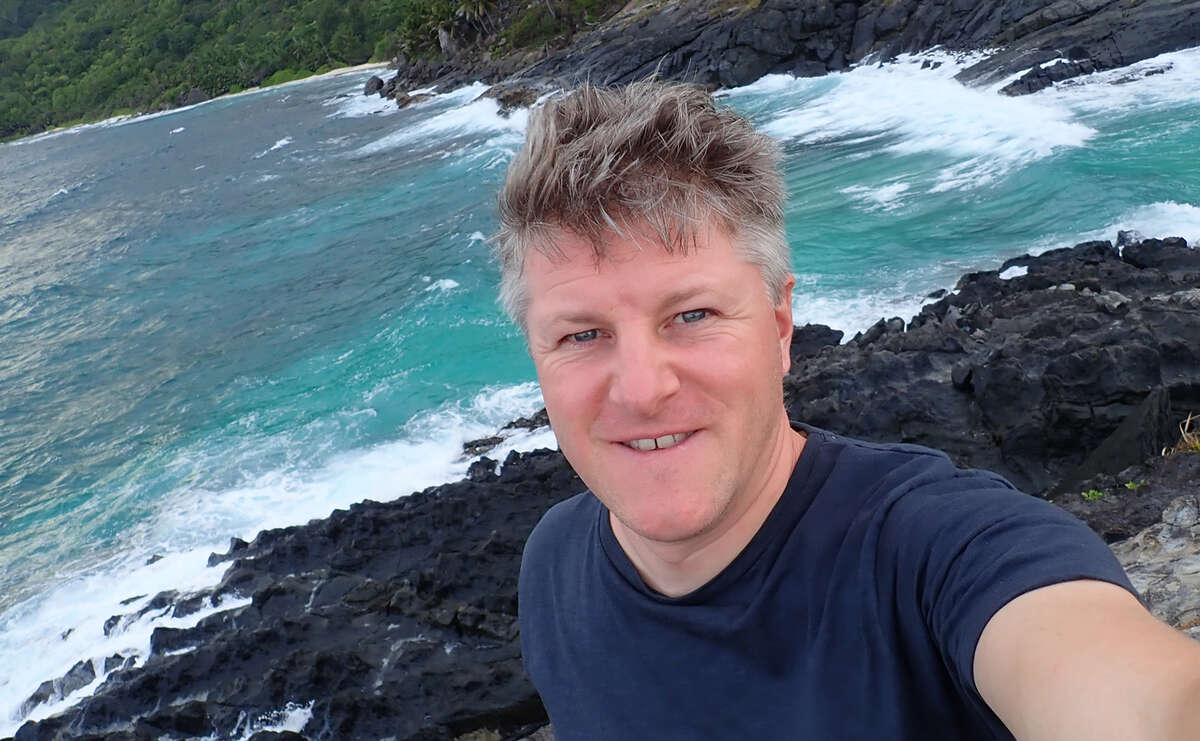 After graduating from the Biozentrum, you moved into industry for your PhD. How did this come about?
I not only did my PhD but also my diploma thesis in industry, initially at Ciba-Geigy and then after it merged with Sandoz, at what became Novartis. I was completely fascinated by the experiments with enzymes that Prof. Oreste Ghisalba carried out with us in the microbiology block course. Apart from his teaching position at the Biozentrum, he also headed a research group at Ciba-Geigy and offered me the opportunity to work there on an industrial application of enzymes.

You have stayed in research and development. Would a career in academia have also been an option?
I was toying with the idea of doing a postdoc. However, at that time, many places only recognized a postdoc done in the USA and I didn't want to be guided by a ready-made idea but rather by my interests. And, as I realized that I was only a small cog in the machine at Novartis, I decided to join a small start-up company after my PhD.

You started work at GABA in 2002. Generations of Swiss children have grown up with their best-known product, elmex toothpaste. How do you personally feel about this brand?
Now, of course, I have an inside view but it is and remains a fascinating brand. It was born at a scientific congress in the mid 1950s, where the company's own chemist, Schmid, and Mühlemann, a Professor of Dentistry at the University of Zurich, came to the conclusion that one should not only continue to fill cavities but also invest in dental caries prevention. After testing hundreds of compounds, they discovered the amine fluorides, which after years of studies were introduced to the market as an active ingredient in elmex toothpaste in 1963. And they did a really great job. I've been working in dental R&D for almost 17 years now and it's incredibly difficult to find anything better. Sure, we're constantly optimizing the formula, yet basically it's still the same molecule. And the brand does not constantly reinvent itself with countless product varieties.

In that case, what are you working on all day long?
(He laughs) Of course, we have developed numerous new formulations that, apart from the amine fluoride, also protect teeth better against acid attacks and the gums better against inflammation. We test new raw materials such as improved cleaning agents or flavors that give a fresher breath. We also attach importance to more sustainable sourcing. And when there are changes in legislation or in the production process, we are in demand to adapt formulations. We work closely with Knowledge Management and Scientific Affairs to provide scientific evidence of the advertised product features. And there are numerous interesting research projects, which we run together with universities or test institutes, for instance, to better understand the de- and remineralization process that constantly takes place in tooth enamel. Today we can prevent demineralization or even reverse white spot lesions. But that's it. Beyond this point, it's still only "drill & fill". So, obviously, we dream of a product that can spare us the visit to the dentist.
Where are the elmex products available?
Up to now, just in Europe but since last year we are also on the Brazilian, Argentinian and Chinese markets. I was in China for the launch and that was a really cool experience. There are countless toothpaste brands in China and the country is huge. So our Chinese Marketing team opted, on the one hand, to start with pure e-commerce and, on the other hand, to expand our standard marketing strategy by working together with bloggers and digital influencers. We invited them to workshops and it was super exciting to learn about their approach to reviewing our products. I also expected that they would be pretty competitive among each other but surprisingly the atmosphere was extremely collaborative.
Colgate-Palmolive, a previous competitor, acquired GABA in 2004. How is the cooperation?
During the first years, the internal cooperation was not yet so close. Colgate-Palmolive continued to run the GABA business model in parallel and then restructured it step by step. Today, we are well connected with the other research sites in China, India, Brazil and the main Technology Center in Piscataway, New Jersey. What has changed considerably for me is the collaboration with my boss. For almost 14 years, I was able to talk to my boss across the desk. For some time now, my boss is located in the USA which adds an interesting challenge from a communication perspective. What I really appreciate are employees who are on an exchange. Just recently, a colleague from China was working in our team for half a year. That's very enriching, not only from a professional but also from a cultural and human point of view.
And, do you also do research and experiments in your free time?
A few years ago, I was at the Venice Biennale and, on the train back home, inspired by abstract art, I started building a JavaScript tool that creates geometric patterns in a numerically controlled random design approach. I also like to explore the marine world. I almost became a marine biologist but I think it was probably more reasonable to join the Biozentrum (he laughs).

What do you remember most about this time at the Biozentrum?
The block course in the third year was limited to 40 students and we were a bit worried whether everyone would get in. Fortunately, it worked out. It was a great time. We were almost like a school class and had a very strong bond. I remember the introduction to biochemistry by Gottfried Schatz and Kaspar Kirschner. That was a great lecture series. And, last but not least, I had to get written permission from Hans-Peter Hauri, the Dean at that time, to get a university e-mail address. We then sat around a huge server with "text-only" screens. When I think of today's biocomputing and big data applications, it's fascinating to remember how computing was then, and that's not even so long ago.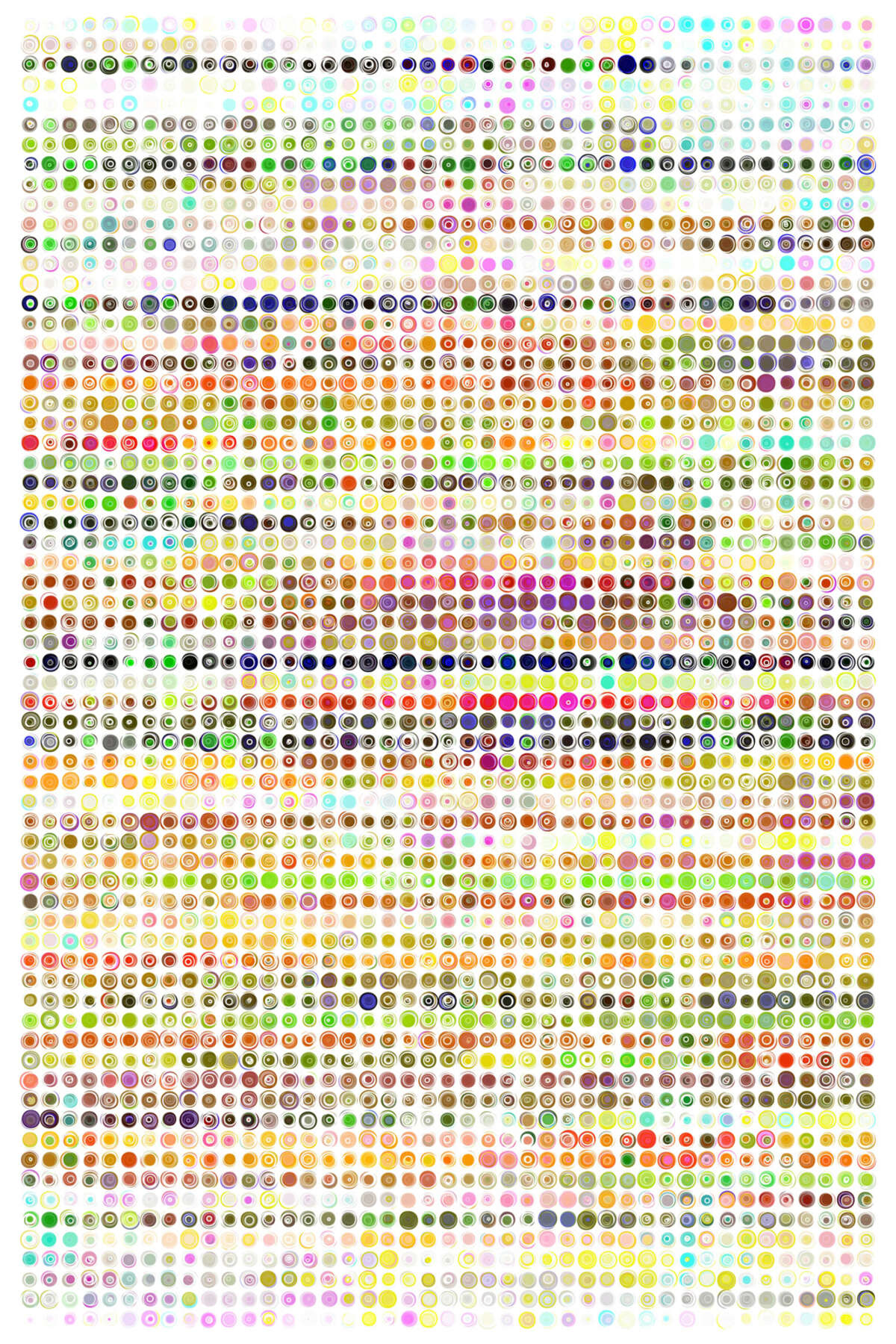 Andé Brunella, Happy lineup, 2015, www.brunella.ch
Curriculum vitae
From 1991-1999 André Brunella studied at the Biozentrum. He did his diploma thesis at Ciba-Geigy AG and his PhD at Novartis Pharma AG, in the group of Prof. Oreste Ghisalba, with his PhD co-supervisor at the Biozentrum being Prof. Peter Philippsen. He then joined Outcomes International AG, a start-up in health economics. Since 2002, André Brunella has been working at GABA International AG, which was acquired by Colgate-Palmolive in 2004, first as Project Manager in Research, then as Head of the Research Department and finally, since 2012 as Manager of Product Development & Claim Substantiation at Colgate-Palmolive Europe.