July 2018
What a coincidence. Shortly, after we sent out our request for an interview, Harvard Professor Anna Mandinova replied that she is currently traveling through Europe and Switzerland. Unfortunately, we could not meet the Biozentrum alumna in person. Nevertheless, in the interview she reveals whom she met from the Biozentrum – after almost 18 years.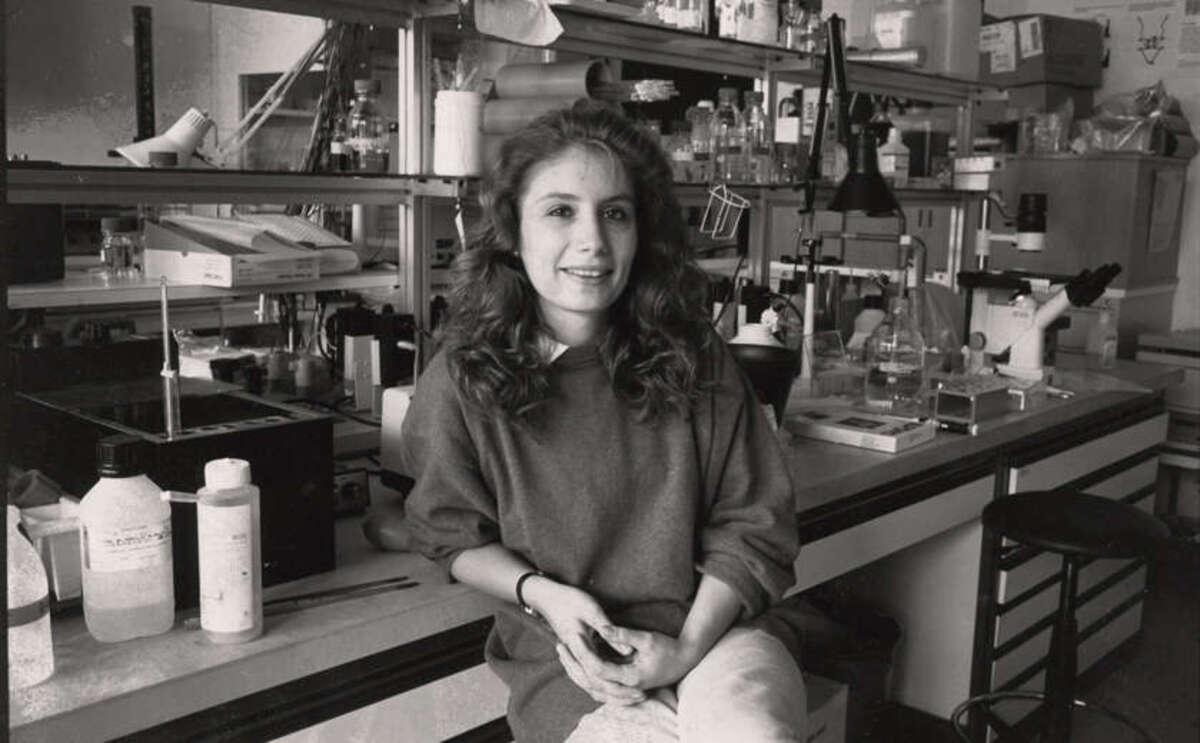 Let's take a look back. You were born in Bulgaria. How did the fall of the Iron Curtain affect your life?
I had just graduated from high school and was starting at the Medical University in Sofia, so the changes coincided with the beginning of my adult life. Therefore, I think that for my generation it seemed like everything was changing at once. We did not need to adapt as much as for instance our parents did.

You originally studied medicine. Why did you then decide to do a PhD and was it ever an option for you to work as a physician?
I always wanted to peruse a scientific career related to medicine. But then I realized that working as a physician scientist would require me to invest a lot of time in order to complete my clinical training and take the American Boards. It was a time commitment I couldn't make since it seemed that I was always in the middle of an exciting project, then I moved on to the next one and the next one and so on…

How did it come about that you moved to Basel to do your PhD at the Biozentrum?
My husband is a cardiologist and back then he was awarded a fellowship of the European Society of Cardiology to peruse his interests in clinical research and interventional cardiology at the University Hospital of Zurich. I joined him just after I finished Medical School in Bulgaria and it felt like the right time to expand my training in basic science. The University of Basel was offering an MD/PhD program, which seemed very attractive to me and one specific project on the molecular mechanisms of myocardial dysfunction caught my attention. It was a "joint venture" between the Biozentrum and the Department of Cardiology at the Hospital. I applied right away and was very excited when I met my future advisors Ueli Aebi and Dan Atar for the first time. I was fortunate to be able to start shortly after.

So, your PhD project bridged structural biology and cardiology. What was your research about?
I studied various aspects of the structural biology of myocardial filaments. I had not seen Ueli in almost 18 years and only recently, just two weeks ago, during one of my regular visits to Europe, I made a stop in Bern and had a very nice dinner with him and his wife Janine. Many nice and heartwarming memories came back.

What has the Biozentrum given you to take along for your life?
This is really a hard question, mostly because my time at the Biozentrum was a time when life was in the fast lane and profound changes appeared to be part of the everyday experience rather than the exception. Within those five years, I graduated from the MD/PhD program, worked at the Biozentrum, the University Hospital in Basel and the University in Zurich, also my daughter was born and we decided to make the big move and relocate to the US. So, let me say this: my time at the Biozentrum prepared me well for all of this.

Nowadays, you are working in the field of dermatology at Harvard Medical School. What questions particularly interest you? Does your research have a direct impact on patients' lives?
Yes, indeed. My primary appointment is at the Department of Dermatology at Harvard Medical School and my laboratory uses the skin as a model system for stem cell and epithelial cancer biology. However, our research portfolio is quite diverse. We are working on posttranscriptional regulation of stem cell behavior and, in parallel, we have a fairly large ongoing effort in the early stages of drug discovery, which pertains to my appointment at the Broad Institute of Harvard/MIT. More recently, we also branched out to explore human gene therapy approaches in the skin as part of the Harvard Stem Cell Institute. Most of these studies have a profound translational character and are in a close collaboration with industry partners. I am also a co-founder of SeylanMed, a biotech startup, which we hope will have its own impact on patients' lives.

After almost 15 years in the USA, what do you appreciate most about living and working there?
Boston with its world-class science institutions is one of the most amazing places in the world to work as a scientist. More recently, it has also attracted the R&D departments of many small and large pharma companies, which makes it by far the most desirable location for translational medicine. I consider myself, without a doubt, fortunate to be part of the Harvard/MIT faculty. And the lifestyle here is also excellent. At the same time…. we certainly miss Europe; the culture, the nature, the proximity to where we were born and raised. I wish, I could have it both but I think Boston is a good compromise.

You have two children. How difficult is it to reconcile a family and a scientific career and how do you manage it?
I have an 18 years old daughter, who just graduated from high school and is heading to college. She chose a pre-med program and her wish is to become a physician. I also have a 9 years old son, who is finishing 3rd grade. It is indeed difficult but extremely awarding to reconcile a family and a scientific career, especially one as diverse as mine given all the commitments and all the domestic and international travel. My husband is even busier than I am but we both enjoy our life as it is and we are very fortunate to see how well adapted our children are. We believe this is part of what they have to learn in the world we live right now.

And finally, who is the private Anna Mandinova?
I love to travel with my family. I enjoy listening to music, reading books, watching my daughter compete as an accomplished ballroom dancer and my son at his soccer practice. I also love sports: I am a very big soccer fan but here in the US, I discovered that I am also enjoying and even starting to understand American football. Living in Boston, it is a part of life and I can say that, without a doubt, I am a passionate Patriots fan, who loves to watch them play and win!

Curriculum vitae
Anna Mandinova is currently Assistant Professor of Dermatology at Harvard Medical School in Boston and Associate Member of the Broad Institute at MIT/Harvard. She received her MD in 1995 at the University of Sofia, Bulgaria, and worked as a MD/PhD Research Fellow at the Biozentrum under the supervision of Prof. Ueli Aebi and at the University Hospital Basel under Prof. Dan Atar. In 2004, Anna Mandinova moved to Boston, USA, where she carried out research as a postdoctoral fellow at the Dermatology Department of Harvard University. In 2008, she was appointed to assistant professor.